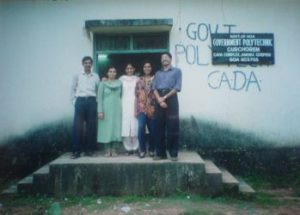 Govt. of Goa established Government Polytechnic Curchorem with the intention of spreading Technical Education to the rural areas. The brain child of Shri Domnic Fernandes, the then M.L.A. of Curchorem, was established on 16th August 1996 at Cada Complex, Amona, as its temporary premises with the introduction of the course Diploma in Mechanical Engineering.
The college comprised of 03 sheds belonging to the irrigation department. From these humble beginnings the college is imparting valuable education to all those who cross its threshold.
The first permanent appointments in the form of the Ex-Principal Dr. A. R. Naik (tenure was from January 1997-Jan 1999), Ex-Principal Shri Vivek B. Kamat (tenure from Jan 1999-Dec 2005), In charge Principal, Ajit M. Gaonkar(2005 – ), H.O.D. Mechanical Luis Fernandes, Lecturers Ms. Nisha Amonkar, Classie Monteiro, Preetha Rao, Sharon Fernandes, Mr. Cruz DSouza, Mrs. Sangita Kamat, Mrs. Padmaja Salkar and Mr. Michael DSouza, Instructors- Mr. Sanjay Naik, Nilesh M. Jadhav and Shashikant D. Chari pioneered in giving shape to this dream. They were ably supported by the Administrative staff  Shri Peter Gomes, Santan Cardoz, Vrunda Kamat, Maria DCosta, Denvil Periera, Anand Gaonkar, Jose DCosta, Vishnu Naik & Sunanda Navelkar.
The fledgling polytechnic had many teething problems. Initially, staff and students had to visit far off Institutes like Govt. Polytechnic Bicholim, I.T.I. Canacona, ISBT, Vasco, Panjim & Agnel Polytechnic to do practicals till Physics, Chemistry, Applied Mechanicalanics & workshop laboratories were temporarily set up in the now old campus.The Constitution of students Council was written by Shri Michael M. DSouza, edited by lecturer Ms. Sharon Fernandes, in charge of students activities and approved by the students council 1999. In June 1999 for the first time the students body was voted with use of Voting Machines.In the academic year 1998-99, Diploma in Refrigeration and Air Conditioning was introduced with 20 seats.
As there was no proper infrastructure, the first step towards constructing the Polytechnic was taken by acquiring a plot of land admeasuring 85000sq.mtr. at Cacora, Curchorem.The Foundation Stone was laid on 19th April, 2001, by the Hon. Chief Minister of Goa, Shri Manohar Parrikar, & Hon. Minster for Law, Shri Ramarao Dessai. Taking around a year to be completed, the building now houses class rooms, drawing halls, Work shop, computer center, and library and office spaces.
Phase II was inaugurated by Shri Luizinho Faliero, Hon. Minister for Education and Industries, Govt. of Goa.
Today, Government Polytechnic Curchorem offers:
Diploma in Mechanical Engineering
Diploma in Computer Engineering and
Diploma in Electrical and Electronics Engineering
Over the years many contact staff have joined the teaching faculty at the Institute.
Our teaching and non teaching staff is enthusiastic, dedicated, young and capable. Workshops and seminars are conducted for the staff and students. Government Polytechnic Curchorem students excel at academics and extra curricular activities. They out perform in the annual examination and secure a place in the merit list. Their hard work and dedication make them the most sought after in their respective fields.
What the polytechnic is today is what we see  A beautiful sprawling thriving complex, a beehive of Students Activity and the rest as they say is History.